WHAT IS EXISTING BUILDING COMMISSIONING?
Existing building commissioning (EBCx), also known as retro-commissioning (RCx), is a systematic process applied to your existing building or buildings to improve overall system operations. Depending on the age of the building, existing building commissioning will resolve problems that occur during design or construction, and address problems that have developed throughout the building's lifetime. In all, existing building commissioning improves building efficiency, boosting overall building performance, translating into energy savings.
The skill set needed for existing building commissioning is different from your standard commissioning project. The commissioning agent must have the skill set to troubleshoot and interrogate a control system, bleed out an HVAC system, and execute performance test on chillers, to name just a few examples. Buildings that generally work at less than desired performance — usually attributed to the building's age — are excellent candidates for existing building commissioning. Older buildings often have high energy output, poor occupant control, or a combination of many factors.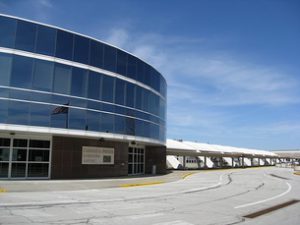 For the building shown, which is the downtown Kansas City airport, we provided retro-commissioning services and fixed what we could to make the systems at far more comfortable for the occupants. Moving forward, we completely replaced the entire HVAC system with zero downtime to the building and its occupants. Sys-Tek provided design, construction management, commissioning, and balancing for the entire project from start to finish.
Retrocommissioning is a science which requires a special skill set, much like surgery or IT. If you are missing just one of the skills, your chances of success diminish. The team providing the services must know what to look for, how to test and integrate systems for controllability and optimal performance. Unlike new building commissioning, there are no contractors or other engineers to hand-off an issues log to; on existing building commissioning projects, we provide the solutions.
EBCx will:
Bring equipment to its optimal operating efficiency
Reduce energy demands and cost
Reduce complaints
Increase occupant satisfaction and comfort
Increase equipment life
Improve indoor environmental quality
Reduce staff time spent on emergency calls
Improve facility operation
Decrease your monthly fixed costs
Improve yearly equipment budget forecasting
EBCx cost allocation:
69% planning and investigation
27% implementation
4% verification, tracking, and reporting
Cost Savings: Existing building commissioning can produce significant cost savings in existing buildings. Savings will vary depending on the building type, its location, and the scope of the existing building commissioning performed.
Sys-Tek has been providing EBCx services for over 24 years in healthcare, higher education, life sciences, mission critical, and industrial.