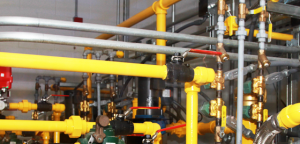 Sys-Tek's services are a combination of skill sets we have developed over the years based on providing solutions to our clients' challenges. We started installing building controls for clients in 1999 because AT&T had a very unique system that required a high degree of engineering. Our Design/Build business was created because Sprint needed a firm that could go to their sites to upgrade and replace smaller UPS systems with larger systems and do it in such a way that they never took a power hit to the site. Other services described below were developed to fill our clients' needs and as we move forward, we will continually look for these challenges and continue to provide solutions.
TAB and Field Services
State-of-the-art test equipment in conjunction with a technical staff proficient in the analysis and interpretation of the data is used to identify causes of malfunctions, data corruption, and degraded performance. In addition, sys-tek acts as a third-party independent testing agency to certify that critical components comply with their specifications. Third-party testing is also useful for establishing the initial conditions for warranty purposes.
Combing our field testing with our engineering background we have provided studies for clients to provide them with needed information to budget capital upgrades and assess equipment reuse. In addition, we have provided energy studies for many of our clients and assisted then in establishing energy upgrades over several budget years
Working with facility managers, we could see the void in properly analyzing equipment for excessive vibration. We own the latest state-of-the-art vibration analyzer manufactured by Fluke and have been trained and have provided this service for Brooke Army Medical Center, NKC Hospital and the University of Missouri.
LEED Standard and Enhanced Certified Commissioning
Originally purchased the camera to provide electrical switchgear and electrical system testing. However, since then we have used this camera for countless tests including verifying proper mixing of air streams in mixed air sections or, verify that a coil has the proper heat transfer over the entire face of the coil. The primary use is for electrical component testing during generator and UPS load testing and commissioning.
The proven method for determining whether a battery will perform is to test it under load conditions. Proper load testing is the only way to determine where the battery resides on its expected life curve. Our firm owns and uses the Albér BCT-2000 capacity test system. Load testing is essential for any storage battery system that protects equipment or critical service. Because the battery is almost always the least reliable component, load testing should be done on a regular basis to ensure reliability. The BCT is a combination load control and data logging system consisting of a data acquisition module and a laptop computer data logging unit. The data acquisition module acquires all cell voltage, overall string voltage, and current readings. The computer data logging unit displays the programming parameters for the test. During a load test, the system records overall voltage, load current, and cell voltages.
Quality Testing & Analysis
Start-up Coordination & Training
This is a service we have been providing since our companies inception and dates back to working for our Mission Critical Clients. We have provided testing for generators, which have included paralleling gear using PLCs and synchronizing equipment. We have provided generator testing for plants as small as 75kW and as large as 12 MW. System testing includes air systems, fuel transport as well as electrical systems.
Engineering
The complexities of electrical power systems require that system be coordinated from source to end-use. We have provided this service for many of our clients including the University of Missouri Biology/Chemistry Building which included research and laboratories where power systems are critical and must remain operational. The study preceded a 2-million dollar upgrade project. Other projects include hospitals, data centers, and Biotech production. A key element in developing accurate coordination studies in fieldwork and getting accurate data.
Controls Integration, Design & Engineering
Programmable Control System Design
SCADA system design and graphic development
Construction Management Services
Peer Reviews
Value Engineering
Code Research/Compliance Consulting
In many projects after systems are tested, we find equipment not performing as specified. Reasons have included: construction installation, design issues and faulty equipment that just does not work. What we provide is hard pertinent data using repeatable test procedures that cannot be ignored. Using this data along with our engineering expertise and acting as a liaison for our clients we work with the team to bring resolution.
Certifications
We currently hold the following certifications:
NEBB Certified in both TAB and Commissioning
Registered Professional Engineers in 17 states
LEED Accredited Professionals
Commissioning Process Management Professional Certification (ASHRAE)
Certified Commissioning Professional (Building Commissioning Association)