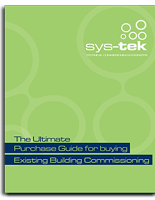 Searching for Existing Building Commissioning services? The Ultimate Purchase Guide for Buying Retro-Commissioning Services will provide you with everything you need to know about finding the right EBCx agent for your facility.
Some firms may claim to have extensive commissioning or EBCx experience, but that doesn't mean they have the qualifications that are right for your project. You will want to insure the commissioning agent has the qualifications necessary to accomplish an Existing Building Commissioning (ECBx) project, as this could cost you a lot more money, time and energy than you might be saving.
Download our free e-book now to know what to look for in an EBCx agent. We'll tell you exactly which skills sets are necessary, what various industry qualifications really mean, and which questions to ask potential firms and agents.