The Hospital Energy Alliance

Jun 03, 2014

energy.gov recently released an article announcing the launch of the Hospital Energy Alliance (HEA). Designed to be a partnership between the U.S. Department of Energy (DOE) and leaders in the national healthcare sector, the HEA will promote the integration and implementation of energy efficiency and renewable technologies in all aspects of hospital design, construction, retrofit, operations, and maintenance.
The HEA joins the Retailer Energy Alliance and the Commercial Real Estate Energy Alliance (CREEA) as the third Net-Zero Commercial Building Initiative launched by the DOE.
"Hospitals are among the nation's most complex and energy-intensive facilities," said Richard F. Moorer of the DOE. " The Hospital Energy Alliance was created to spur energy efficiency and lower costs in the healthcare sector by accelerating the adoption of high-performance technologies while preserving or enhancing healthcare delivery.  Under the new alliance, hospitals and healthcare organizations will have access to the resources and technical expertise available at DOE and its national laboratories to develop and deploy innovative solutions to cut costs, lower energy usage, and reduce pollution across the country."
Moorer does not exaggerate the amount of energy used by hospitals. Annually, "hospitals use 836 trillion BTUs of energy… and have more than 2.5 times the energy intensity and carbon dioxide emissions of commercial office buildings, producing more than 30 pounds of CO2 emissions per square foot."
With a $5 billion annual energy price tag, or roughly 15% of profits, reducing the costs associated with energy in the sector is a compelling goal for the alliance.
You can learn more about the HEA and the DOE's commercial building initiative here. 
You may be interested in these other posts: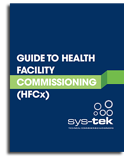 The Guide to Health Facility Commissioning (HFCx)
Read our FREE e-book, The Guide to Health Facility Commissioning (HFCx) and learn everything you need to know about Health Facility Commissioning.