Professional Memberships & Certifications

We stay involved with many industry organizations, helping to promote the causes of teamwork within our industry, as well as promoting good stewardship of the resources that we utilize.
sys-tek has memberships in:
American Society of Healthcare Engineers
Construction Owners Association of America
7×24 Exchange Texas Chapter
Kansas City Area Healthcare Engineers
Texas Area Health Facility Engineers
Certifications & Accreditations:
Certified Commissioning Firm by the Building Commissioning Association
Certified Commissioning Professionals by the Building Commissioning Association
NEBB Certified in testing, adjusting, and balancing
NEBB Certified in commissioning
NEBB Clean Room Certification in progress
LEED Standard and Enhanced Certified Commissioning and Accredited Professionals
Commissioning Process Management Professional Certification (ASHRAE)
Certified LonWorks Integrator
Certified WonderWare Developer
Tridium Niagara AX TCP and Developer Certified
Professional Engineers in Kansas, Colorado, Missouri, Oklahoma, Texas, Iowa, Maryland, Arizona, and Kentucky. Also, three Registered Professional Engineers with NCEES certification.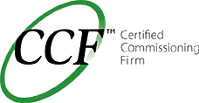 Certified Commissioning Firm
We are pleased to announce that Sys-Tek has been named a Certified Commissioning Firm by the Building Commissioning Association. The Certified Commissioning Firm (CCF) certification demonstrates the highest standards for professional commissioning firms. According to the BCA's website:
Organizations that hold the CCF designation stand out among competitors as experts – with the determination and ability to provide the premier services to clients, and the commitment to the advancement of the practice of commissioning. The CCF shows that you:
Can prove your industry leadership
Stand out among your competitors
Provide the premier services to your clients 

NEBB Certified Commissioning and Testing, Adjusting & Balancing
Sys-Tek is certified by NEBB, which provides the client the assurance that their project will be completed to NEBB standards even if they have to bring in another certified firm to get the project completed. This assurance cannot be found by any other organization. Additionally, NEBB training is second to none, and the certification process is rigorous which ensures our firm meets the standards developed by NEBB over its 40 year history. When you hire a NEBB certified firm, you can have confidence in knowing that the staff is trained and equipment calibration is certified.

GSA Advantage!® Vendor
We are GSA approved for refrigeration, heating, ventilation, air conditioner, boiler and chiller HVAC maintenance, metering services, and building commissioning services. Click here to read more details of our contract award.