Retro-Commissioning for Larger Buildings

Oct 10, 2014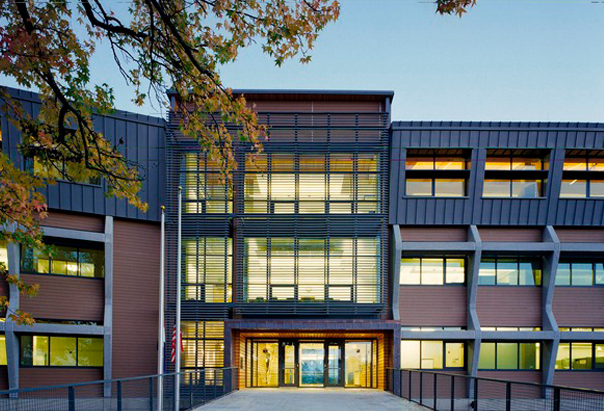 According to the U.S Department of Energy, retro-commissioning can produce energy savings of up to 20% — in some cases adding up to millions of dollars in savings annually. Which is one of the reasons that retro-commissioning is of greater value to larger buildings than smaller ones in terms of energy savings, billable hours and the expense of the retro-commissioning process.
When we say that retro-commissioning benefits larger buildings more than small buildings, we mean buildings 50,000 square feet or larger. The majority of retro-commissioning projects are in fact focused on buildings 50,000 square feet and above.
For building owners who are concerned about the cost of retro-commissioning, there is good news.  Reports have indicated that retro-commissioning projects that cost an average of $0.30 per square feet yield 16% energy savings while generating a payback of only 1.1 years.
Retro-commissioning can greatly reduce operating costs, with savings being impacted by factors like location, type of building, and the scope of the project. A study conducted by Lawrence Berkeley National Laboratory found that businesses could save $0.11 to $0.72 per square foot by means of retro-commissioning.
Some of the best candidates for retro-commissioning are building types that naturally tend to meet or exceed the 50,000 square feet mark. Buildings like hospitals, libraries, multi-tenant buildings, data centers, and laboratories are all good candidates for retro-commissioning because these types of large facilities have large air changes, quality facility staff, and a complex amalgamation of components.
If you're interested in learning about a national program that could help you pay for energy upgrades and retro-commissioning, check out this article on PACE funding. sys-tek, as a PACE providing partner, can help evaluate your energy usage as well as deliver our unique expertise.  Click here to read about the difference between technical and process commissioning. Contact us to learn more!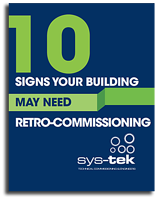 10 Signs Your Building May Need Retrocommissioning
If your building is exhibiting any of these key signs, you may be able to improve energy efficiency and reduce costs through RBCx.