Technical vs. Process Commissioning

Oct 23, 2014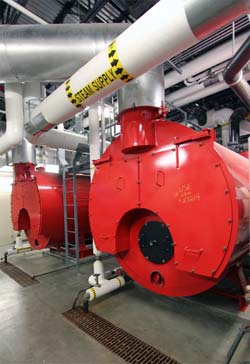 Commissioning has slowly evolved to incorporate two unique styles of commissioning; technical & process. Process Commissioning is a document driven method with sample based tests self-performed by contractors. sys-tek's chosen style, Technical Commissioning is a "hands-on" process with the Commissioning staff performing all functional testing. While process commissioning may be adequate in some circumstances, we've found that technical commissioning provides building owners with a better value and longer lasting results.
Technical Commissioning focuses on system performance from a practical standpoint with the mantra of making systems work. Relying on 3rd party technical experts to performance test and verify systems is the sure way to Commission systems. Sample based Commissioning is not recommended in the Technical Commissioning process as fine-tuning of systems depends on all components of a system operating at their peak efficiency.
Still a bit unsure about technical vs. process commissioning? Check out the video below or contact us with any of your questions!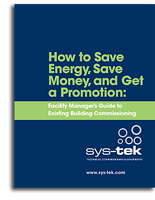 How to Save Energy, Save Money, and Get a Promotion
Read How to Save Energy, Save Money and get a Promotion. It will tell you everything you need to know about existing building commissioning for your facility.