Does Your Commercial Building Qualify for PACE Financing Upgrades?

Oct 06, 2014
PACE (Property Assessed Clean Energy) Legislation passed state government is designed to assist building owners with needed funds to implement effective energy upgrades to their commercial buildings. These upgrades save energy, save money, create jobs, increase property value and tenant retention.  The monies are disbursed to fund the project and paid back through property taxes.  The money saved is usually a lot less than the energy bills, thus no out of pocket money to budget in.
Take a look below to get an idea of where PACE financing programs have already been implemented and where they're heading.

Interested In knowing more about PACE financing?
sys-tek is a PACE providing partner that can help evaluate your energy usage and submit your application for PACE funded upgrades. Contact us today.
You may be interested in these other posts on PACE financing: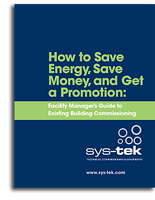 How to Save Energy, Save Money, and Get a Promotion
Read How to Save Energy, Save Money and get a Promotion. It will tell you everything you need to know about existing building commissioning for your facility.