Energy Star EBCx can fuel your marketing campaigns for 2014

Dec 30, 2013

Retro-commissioning your existing facility with Energy Star equipment will save you energy and money, and your marketing department can capitalize on the opportunity as well. Even if marketing already has campaigns designated for Q1 2014, it can always benefit from a backup or a secondary campaign. Existing building commissioning (EBCx) is a complicated and delicate process, but even during the planning stages, your company can highlight your environmental commitment to the public and your current clients. Going green is going to be in style for many years to come, so your facility improvements and reduced energy consumption can provide marketing material well past 2014.
With most EBCx projects expected to pay for themselves in a little over a year, you could pass some of those savings on to your clients. Not many companies are lowering their prices in this current inflationary environment, so this small step can help you stand out from your competitors. If lowering your prices is not the route you wish to take, you could announce a commitment to your current clients and prospects to keep your prices steady for a certain number of years as a result of your EBCx cost savings.
While the exact energy savings from EBCx varies depending on a multitude of variables for each project, the fact that you are making the commitment to make a difference is the most important thing. Many companies are currently looking for a sustainable competitive market advantage, yet most companies don't have a substantial amount of capital at the present time to pursue new growth opportunities that carry a significant amount of risk. Undertaking an EBCx project can help you reduce costs and establish the sustainable competitive market advantage you have been looking for at the same time.
Going green is not going to go out of style anytime soon, so your marketing department can utilize the green initiative for many years to come. It could help you reestablish relationships that were lost to competitors. Your new environmentally friendly image could also attract new clients that are extremely environmentally conscious. Finally, a green campaign could assist your sales team in the process of expanding the penetration with your existing accounts.
When was the last time your organization undertook an initiative that aligned the interests of all your departments? No matter the effectiveness of your green campaign, your organization will still experience the financial benefits of existing building commissioning, which will make everyone in the finance department happy.
Becoming a greener company is also an initiative that will not backfire on your marketing department; no one will be mad that your company is saving energy (except maybe your utility company). Operations will be glad things are running smoother and more efficiently.
If you are interested in speaking with an expert about how EBCx can help your company, please contact us so we can help you analyze your potential options.
You may be interested in these other posts: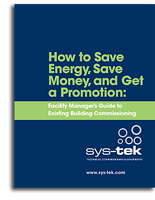 How to Save Energy, Save Money, and Get a Promotion
Read How to Save Energy, Save Money and get a Promotion. It will tell you everything you need to know about existing building commissioning for your facility.