Boehringer Ingelheim Vetmedica, inc. – Packaging Room Renovation and Expansion

Apr 24, 2013
Boehringer Ingelheim Vetmedica, Inc.
Packaging Room Renovation and Expansion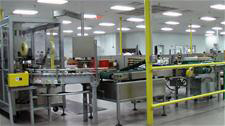 This project renovated and expanded an existing secondary packaging room to support a new automated animal health biological and pharmaceutical packaging line at Boehringer Ingelheim Vetmedica, Inc. (BIVI) in St. Joseph, Missouri. The building housed the existing Packaging Room and an adjacent warehouse was built in 1959, with few renovations since then. Although the area had been maintained well, the general appearance of the original construction was drab and dated.
BIVI desired to upgrade and renovate the existing Packaging Room and expand it into the adjacent warehouse while maintaining operations.Because BIVI's high-quality biological vaccines and pharmaceutical treatments are distributed globally, BIVI required the Packaging Room to be designed to meet US Food and Drug Administration and European Union Good Manufacturing Practice (GMP) regulations. Since Animal Health companies operate under smaller capital budgets than Human Health pharmaceutical companies, the project budget was limited to $65 / SF, or approximately $1 million.
Cost Saving Design
To reduce project costs, existing HVAC units were utilized but new ductwork was installed to provide better air distribution. In addition, the HVAC units were connected to the Building Management System to improve temperature control. Restrooms were redesigned to comply with ADA requirements. The electrical infrastructure was replaced to meet current NEC requirements and to meet future growth requirements. Work on all existing MEP systems was scheduled so that existing operations were maintained during construction.
Perhaps more importantly, the visual appearance and environment of the work space has been greatly enhanced by lighting improvements in the Packaging Room. Existing T12 and high pressure sodium lighting has been replaced with highly efficient T8 fluorescent lighting, providing lighting levels that enable manufacturing personnel to better evaluate the products they are packaging. What was once a drab work environment has become the standard for improvements throughout the facility. Gradually, BIVI has upgraded the surrounding areas to match the high-quality visual appearance of the Packaging Room.
Accommodating Schedule & Budget
This project was completed on time and on budget, and has passed each regulatory inspection. This project, along with the investment in the automated packaging line that BIVI employees affectionately call the "Anaconda", has helped to change the employee's attitudes about what can be done to improve the facilities. And more importantly, it has helped provide an environment that enables BIVI to be more productive.