ALLEGRA D 24 PAN COATER SYSTEM INSTALLATION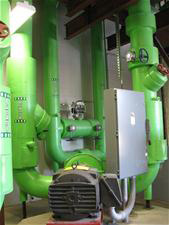 We provided mechanical, electrical, plumbing, fire protection, and alarm engineering services with construction administration support to the general contractor (McCown Gordon) for this design-build project.
The project consisted of modifications to the beads area on the 2nd level of building 'C' to provide for the installation of the owner's aqueous and solvent pan coaters for producing the product 'Allegra D24'. This mainly included engineering design support for utilities to the pan coaters and the room modifications to house them, along with the utilities support for the installation of the owner's equipment associated with the pan coaters (i.e., air handlers, dust collectors, exhaust fans, etc.).
The project also included a design-build for two 4000 gallon acetone tanks, vendor filling capabilities, and internal pumping and piping systems to the mixing tanks within building 'C' for product development. This involved mechanical ductwork and piping, electrical power and lighting, plumbing, fire protection, fire alarm, and including data communication and support for the owner's PLC controls.
The design team's scope of work to support the general contractor's efforts to complete this design-build project followed the owner's standard six step approach in completing this project. These steps outline the different design phases (schematic, design development, and construction documents for permit) along with the construction schedule & sequences through close-out and owner occupancy.