Monitoring Energy Use-Commercial Buildings Save Money

Sep 24, 2014
With the expansion of PACE (Property Assessment Clean Energy) programs across the country, upgrading to energy efficient building solutions is becoming a reality for more and more Americans. 100% financing, 20 year amortized repayment through property taxes, and the promise of utility savings that will exceed the amount of repayment means that commercial and consumer properties across the country are adopting clean energy in ever increasing numbers. 

Tracking energy data, both individually and nationally, has long been a difficult goal of the clean energy sector, and with the increase in clean energy adoption it's become a pressing issue. Last month, the GSA (General Services Administration), and the Environmental Protection Agency, with support from the National Institute of Standards and Technology uncovered that $16 million in energy savings through energy management could be achieved.
sys-tek is pioneering the effort to work with building owners to utilize the PACE program to provide valuable upgrades for their buildings while increasing cash flow.
For the first step, sys-tek will provide an energy use evaluation of the building.  This will include taking certified readings to ascertain the performance of HVAC systems and equipment. From our field testing and building evaluation we will develop energy use profiles for the equipment and systems to determine if there is justification for upgrade or replacement.  sys-tek will then prepare 20% schematic drawings and narratives that will allow us to bid the projects to perspective contractors as bids are required as part of the submission for approval.
Once the project is approved sys-tek will manage all the construction and start-up for the project and verify the energy savings proposed are being achieved. During the construction as systems are completed sys-tek will provide all necessary commissioning, testing & balancing to bring systems on line and operating as quickly as possible to maximize energy savings.
Since sys-tek receives all of its fees through the PACE program financing, there is no out of pocket expense to the owner.
Learn more about PACE and what this program can do for your building upgrades to save energy, at no cost to you.
You may be interested in these post related to monitoring energy use-commercial buildings: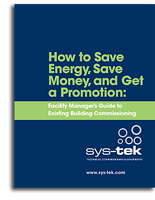 How to Save Energy, Save Money, and Get a Promotion
Read How to Save Energy, Save Money and get a Promotion. It will tell you everything you need to know about existing building commissioning for your facility.