Green-collar degrees grow in popularity

Mar 04, 2014
The "School of Sustainability" at Arizona State University graduates its first class in May. With 300 total degrees handed out between the Bachelor of Arts, Bachelor of Science and graduate degrees, ASU is one of the pioneering schools of an explosive new trend in green-collar degrees.
Students who intend to score green jobs upon graduation are flocking to these sorts of schools in the hopes of becoming a part of the growing momentum behind the idea of sustainability: interest in the environment is high among young people, and the "green collar" job market is on the upswing. As a response, universities across the nation are incorporating programs that focus on exactly this. From MBA programs in sustainable business to programs that concentrate on technical training built around operating wind turbines, green-driven students have a plethora of options.
Other institutions in on the green-collar movement include Bucknell University in Pennsylvania, which will soon require every student to take at least one class that concentrates on human-environment interaction. In addition, Kalamazoo Valley Community College in Michigan will soon offer a 4-month program starting later this year solely based around teaching students to operate and repair wind turbines.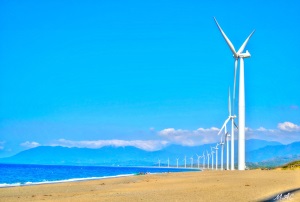 Though there is a definitive and growing need for green jobs in commerce, the driving force for the growth of degree offerings in this sector is predominantly reactionary to student desires, says Marisa Michaud of Eduventures, a Boston-based consulting firm. Colleges just want to keep up with what's trending with students and give them the type of instruction they desire from a higher education institution. Two-thirds of students surveyed reported that a university's "environmental commitment" is an important factor when considering where to mail off applications in the spring.
Christoph Reinhart, an associate professor of architectural technology at the Graduate School of Design at Harvard University, says the school's verdict last summer to begin offering a concentration in sustainable design was fueled by three factors: intense interest from students, new legislation, and changes in the industry at large. "Over the past few years, there has been an increased interest and pressure to provide this knowledge in more depth, whereas before, maybe a class would have been sufficient," he says. "Now there's an expectation that more of these skills are being learned."
The takeaway from this is that the idea of sustainability is not only permanent, but also penetrating. Being green has infiltrated almost every facet of commerce, far beyond the veil of appearing green in the philanthropic sense.
For more information on how sys-tek can help you reduce the carbon footprint of your college or university, contact us at 816-229-9009. Our experience in higher education includes multiple projects throughout the midwest, including libraries, dormitories, research laboratories, animal research facilities, veterinary medicine, and central utility projects.
You may be interested in these other posts: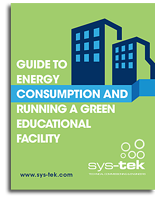 Guide to Energy Consumption and Running a Green Educational Facility
Download our FREE e-book, Guide to Energy Consumption and Running a Green Educational Facility and learn about running an energy efficient educational facility that is a model of environmental stability