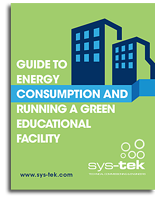 Sustainability is a widely misunderstood and misapplied term, but it is fundamentally defined as an obligation to our future. In other words, an
obligation to protect our environment so that future generations can continue to thrive on the earth. The vast majority of scientists agree that climate change is the most severe threat to sustainability and that the school campus "green" movement has found strength and impetus by focusing on measures to limit climate change.
Find out how to save energy — and save your company money — with our free e-book, a Guide to Energy Consumption and Running a Green Education Facility.