Existing Building Commissioning: Retrofitting the Empire State Building

Jun 17, 2014
Recently, the Empire State Building used an existing building commissioning to give the building a makeover. The commissioning helped reduce energy costs by $4.4 million a year and created 252 jobs. Their electricity consumption was guaranteed to go down 38%, and this means that within 5 years the utility savings will have paid for the project.
Take a look at how the commissioning focused on five areas to create all those jobs and save millions.

Despite the fact that existing building commissioning has been proven to be cost effective, many building owners feel like it is too expensive and time consuming to be feasible. Commissioning, however, far from being a wasted expense has the potential to greatly reduce energy consumption and save money. Not all projects are as big as the Empire State Building, but commissioning can create substantial savings for any size building.
Learn more
In this video from the Dylan Ratigan Show, Anthony Malkin, president of Malkin Holdings and one of the owners of the Empire State Building discusses the existing building commissioning project.
You may be interested in these other posts: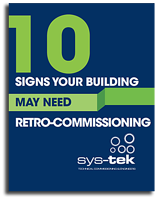 10 Signs Your Building May Need Retrocommissioning
If your building is exhibiting any of these key signs, you may be able to improve energy efficiency and reduce costs through RBCx.