Building Automation and Control Systems Basics

Jan 14, 2014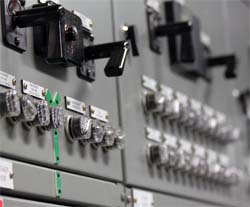 A Building Automation System (BAS) is a vast web of interlinked hardware and software that ensures that a structure's internal environment stays comfortable, safe, efficient and monitored. Heating, ventilation, air conditioning, lights, blinds, safety fail-safes and all the equipment and power behind them are pieces of the BAS puzzle. On a deeper, more technical level, this includes processes and commodities like chillers, boilers, roof-top units, fan coil units, and variable air volume boxes.
BAS are usually pre-planned as part of the total budget for new buildings and incorporated as the buildings are constructed. However, older buildings are retrofitted with building automation systems as they are renovated or remodeled.
A newcomer to BAS vernacular can easily get caught up in the jargonized terminology that comes along with it. Most BAS buzzwords are simpler than they appear at first glance. For example, building automation control system (BACS), building control system (BCS) and building management system (BMS) are all essentially synonyms with BAS. Energy management system (EMS) and energy management control system (EMCS) also fit under this umbrella definition, though they have more of an emphasis on metering and monitoring energy expenditure than the term BAS denotes.
When optimizing and retrofitting an existing building, lighting is a popular first target. Antiquated lighting systems use much more energy thermally than they turn to light, making them heavily wasteful but easily replaceable with cooler-burning, longer-lasting LEDs. Other popular systems for retrofit include power and water monitoring, card/keypad security access, fire alarms, elevators and escalators.
Since their widespread inception in the 1970s, the typical BAS has been constantly evolving. What started as pneumatic and air-based systems have become electronic control configurations and the digital, highly precise units of today.
Because of the comprehensive, deep-rooted nature of a BAS in a building, updating or upgrading a system can be highly complicated and costly. Trading up from a pneumatic to digital system, for example, is ludicrously expensive, especially for a larger structure.
For many years, the proprietary nature of BAS equipment compounded this already dicey equation. When BAS popularity was just beginning to ramp up, companies that sold the necessary hardware made it impossible to interchange their products with their competitors, giving BAS manufacturers building-wide monopolies on their clients.
In the late 1990s, however, there was a heavy push by the American Society of Heating, Refrigerating and Air-conditioning Engineers (ASHRAE) to standardize BAS equipment and tear down the proprietary bounds imposed by these BAS companies. Today, building owners enjoy an industry-open standard in which all companies and their products are interchangeable and on an even playing field.
Delving into the world of BAS doesn't have to feel like learning a foreign language. The industry is largely designed to be navigable by laymen and building managers who aren't necessarily veterans of the wide world of BAS. Thanks to breakthroughs in electrical and structural technology, one doesn't have to be a licensed engineer to be able to tell what's going on under the hood in a building.
For more information on building automation and control systems, contact sys-tek today at 816-229-9009.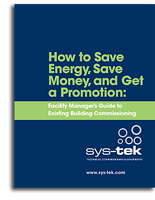 How to Save Energy, Save Money, and Get a Promotion
Read How to Save Energy, Save Money and get a Promotion. It will tell you everything you need to know about existing building commissioning for your facility.