Where are PACE Energy Programs Available?

Apr 25, 2014

We recently shared with you a new financing program that helps property owners adopt clean energy with no up-front costs and amortized repayment over 20 years. The PACE program is an excellent financing solution for commercial property owners, and also extends to residential and municipal properties in some areas.
So Where are PACE Energy Programs Available?
The PACE program is a relatively new financing program so it is only available in a select number of states. A full list of state and counties eligible for PACE can be found here.
Is PACE Available in Missouri?
Yes, the PACE Program is available in Missouri and, specifically, is available in St Louis. Currently, PACE funding is available for Missouri commercial properties including businesses, multifamily housing, industrial, agricultural, and not for profit and public buildings.
PACE in Missouri
For those interested in the PACE program in Missouri, there are a couple of specific links you should be aware of.
First, the Missouri Clean Energy District Program is a statewide commercial PACE program that has the capabilities to enroll every municipality in the state. They've already made quite a bit of headway, enrolling a number of municipalities, including: Branson (Taney County), Charlack (St. Louis County), Cole County, Cooper County, Ferguson (St. Louis County), Galena, Hazelwood (St. Louis County), Hollister (Taney County), Jefferson City (Cole County), Nixa, Olivette (St. Louis County), Ozark and Ozark County, Taney County, and Warrensburg (Johnson County), West Plains.
The process of enrollment is simple, And one of the best parts about enrolling is that no public funds, means no public hearing! All a municipality has to do is pass an ordinance and it will be apart of the Clean Energy Development Board.
In Missouri, property taxes are collected on December 31.
To be eligible, there are a couple of requirements for eligibility that must be met, including:
• Property must be physically located within the Clean Energy Development Board's financing district
• Must be current on property taxes for the last 3 years with no involuntary liens
• The applicant may not request more than 15% of the Assessor's appraised value of the property
• Commercial properties must have a min. 50% occupied or may be appealed to the CEDB for approval
• Term will not exceed useful life of improvements or maximum of ten years.
The second, Missouri specific, PACE link is for those interested specifically in St. Louis. Click here for the St. Louis PACE application. Also, if you're not sure if your project would qualify for PACE financing through SET the PACE St. Louis, then take a look at the eligible projects list here.
A Note on PACE Contractors
Not all contractors can perform PACE financed work. To be eligible contractors must first contact the PACE energy program and provide them evidence that they meet all applicable state and city or county licensing requirements, including insurance and/or bonding requirements. They also must agree to all terms and conditions of the PACE Program. However, the PACE energy program does not endorse any particular contractors and applicants for PACE financing are expected to preform all normal due diligence when selecting a contractor, unless they chose to do the work themselves.
You may be interested in these related posts: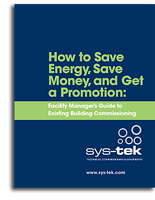 How to Save Energy, Save Money, and Get a Promotion
Read How to Save Energy, Save Money and get a Promotion. It will tell you everything you need to know about existing building commissioning for your facility.