What Every Building Manager Ought To Know About Retro-Commissioning

Jul 09, 2013
All buildings face an increasing deterioration in the overall performance and efficiency of their energy systems over time. As the building age and occupants change, it becomes very important for the owner to pay attention to building maintenance and operating functions. By neglecting to calibrate and integrate controls, putting off necessary maintenance, or never having a facility commissioned in the first place, operating problems multiply into power-wasting nightmares that tack on considerable cost and downtime to your business. You don't want to waste time and money rectifying these problems after the fact. The best way to ensure this doesn't happen is by employing a qualified retro-commissioning firm to systematically boost the overall performance of your building.

Retro-commissioning is the process applied to existing buildings by means of comprehensive whole-building optimization and assessment to ensure the building's energy efficiency and proper operation. It is applied to existing buildings and the process seeks to improve how systems and equipment function together. Retro-commissioning can also often resolve the problems that have developed throughout the building's history.
What are the areas that retro-commissioning specifically covers? These include:
Lighting,
Testing and inspection of electrical,
HVAC,
Building envelope,
Documentation,
Plumbing,
Training of operators on upholding long-term performance and
Life safety systems.
The efforts of most retro-commissioning projects are focused on energy-only benefits, similar to beefed up audits of energy consumption. Through installation of digital utility meters, equipment controls and use of automated systems, retro-commissioning ensures that building systems are energy efficient and also work longer at reduced costs with fewer problems.
Retro-commissioning has greater value to larger buildings in terms of the expenses in hiring contractors, energy savings and billable hours. Larger buildings can be fitted easily with serviceable automation systems operating through digital controls for ensuring improvements that have lasting effects. For example, when fixing air handlers or rooftop units, the savings are more substantial on bigger buildings rather than smaller ones, which is the reason why most retro-commissioning projects focus on buildings 50,000 square feet and above. Studies have also indicated that retro-commissioning costs an average of $0.30 per square feet, yielding 16% energy savings while generating only 1.1 years payback.
The retro-commissioning procedure is recommended highly for old and aging buildings for ensuring their proper operation and to resolve problems resulting from energy waste. Candidates well suited for outstanding energy savings projects through retro-commissioning include complex facilities like libraries, data centers, laboratories, hospitals, and multi-tenant buildings. Such projects usually have quality facility staff, large air changes and complex amalgamation of components.
You may be interested in these other posts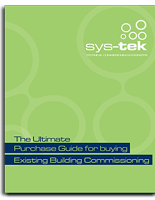 The Ultimate Purchase Guide for Existing Building Commissioning
Read our FREE e-book, The Ultimate Purchase Guide for Exisiting Building Commissioning and learn everything you need to know about finding the right EBCx agent for your facility.