Demand for existing building commissioning continues to grow

Nov 27, 2013
Recent reports and surveys have revealed that the demand for Existing Building Commissioning (EBCx) is continuing to grow among building owners and tenants. Previously, many building owners and tenants have failed to understand the benefits of EBCx / Retro-Commissioning, but the drive to earn and save money and also meet new building codes and requirements have spurred a renewed interest in the EBCx field.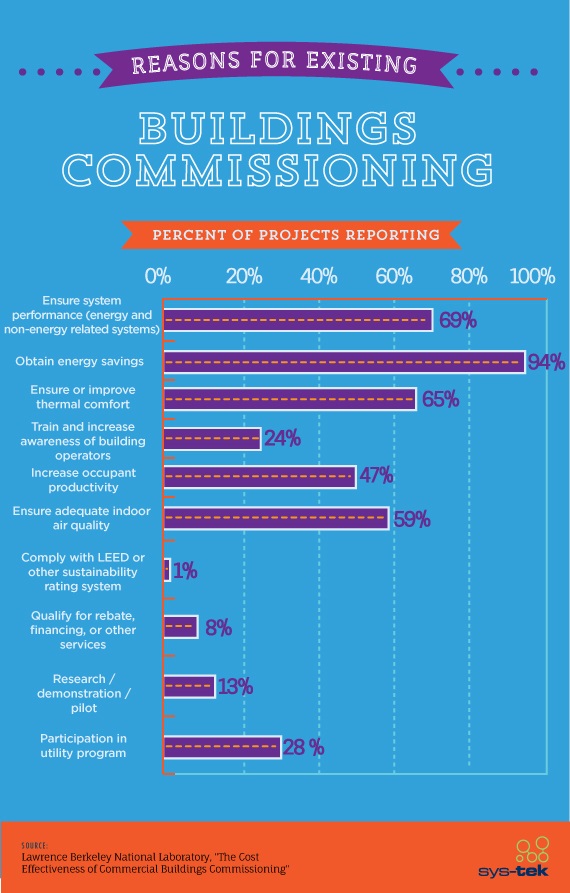 EBCx has the ability to result in massive savings in energy use through implementation of new lighting systems and other types of equipment approved by Energy Star. Additionally, EBCx can result in making sure all building systems function at optimal and efficient levels, which can reduce costs by lengthening equipment life. During an EBCx project, HVAC systems are also recalibrated to support building occupancy and increase tenant comfort.
The nation's increasing focus on sustainability and energy consumption is also opening up opportunities for buildings to earn rebates, rewards, and recognition for meeting certain green requirements, which is influencing more and more buildings to undergo EBCx.
For building owners and tenants whose buildings are failing to meet certain codes and standards, EBCx can ensure that buildings meet such criteria while also improving operations and optimizing energy savings. For example, the American Society of Heating, Refrigerating and Air Conditioning Engineers (ASHRAE) has recently established a requirement that all buildings have HVAC commissioning for control systems if they exceed 50,000 square feet. Buildings that seek LEED certification are also required to undergo HVAC commissioning.
sys-tek has been providing commissioning services for over 18 years, and will work with all building owners and tenants in developing an EBCx plan that results in lasting improvements and savings for years to come. Contact sys-tek today to learn more about our services.
You may be interested in the following posts: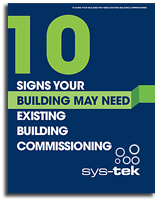 10 Signs Your Building May Need Existing Building Commissioning
If your building is exhibiting any of these key signs, you may be able to improve energy efficiency and reduce costs through EBCx.