10 predictions on commercial energy management by 2020 [infographic]

Sep 05, 2013
The Better Business Initiative set quite a few goals for improving energy efficiency in commercial buildings, which consume over 20 percent of all energy in the United States. Check out this infographic to learn more about commercial energy management.

You may be interested in these other posts: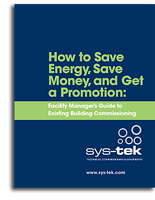 How to Save Energy, Save Money, and Get a Promotion
Read How to Save Energy, Save Money and get a Promotion. It will tell you everything you need to know about existing building commissioning for your facility.